Media Contact: Matt Timney, T 973.244.7300 | Email: mtimney@maxlite.com
www.maxlite.com | info@maxlite.com | 1-800-555-5629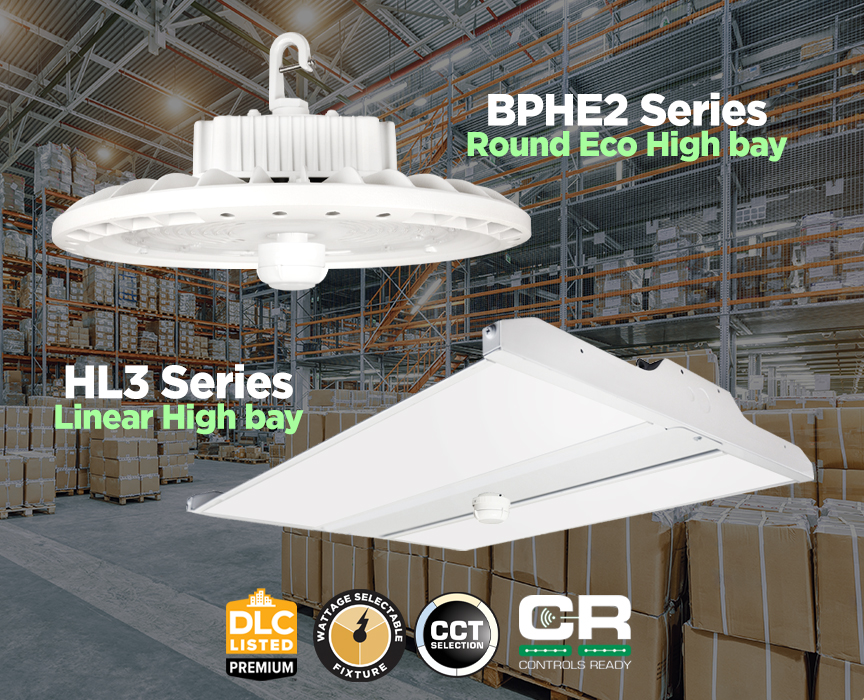 WEST CALDWELL, N.J. (October 11, 2022) – MaxLite, a leading innovator in the LED lighting industry, announces the launch of two new controls-ready DLC5.1 premium high bays. Offering both a linear and round form factor, wattage selectability, color selectability and controls answers the needs of a variety of different high ceiling applications.
The HL3 LED High Bay Linear Series Gen 3, offers an industry leading efficacy of 150lm/W and customizability with CCT select switch (4000K & 5000K) in all wattages in this series. In addition, it also offers scalability with a wattage select model. This premium compact high bay covers a wide range of applications with 11,000 lumens at just 1.5 ft in length, all the way up to 40,000 lumens at 4 ft in length. This product comes Controls Ready (CR), integrated with MaxLite's patented USB-C port for easy in-field plug and play sensor installation of basic and network sensors fully compatible with MaxLite c-Max controls system.
The BPHE2 Round Eco Pendant High Bay Gen 2, is a color and wattage selectable, sleek, price-effective high bay lighting solution. Compact in design, yet mighty in output, providing 12,000 lumens at 90W all the way to 35000 lumens at 240W, this pendant high bay produces uniform illumination and exceeds the DLC 5.1 Premium requirements of 135 lm/W. The BPHE2 high bay also comes ready for in-field plug and play controls compatibility with MaxLite's c-Max network controls system, besides offering additional optical accessories such as reflectors, PC shades and drop lens.
"With high utility rebates making them almost free to install in some regions, combined with the standard MaxLite 10-year warranty, the HL3 and BPHE2 high bays offer exceptional value to distributors and end users alike.  They can be used in almost all high ceiling lighting applications such as warehouses, distribution centers, manufacturing facilities, big box retailers, gymnasiums, and other industrial and commercial locations with open ceilings. With an operating temperature range of -20C to 50C, and a variety of accessories and options such as sensor nodes, Emergency BBU's and wire guards, this is the most versatile high bay offering from MaxLite to date" says Mr. Ramesh Raghavan, Director of Product Management, Indoor.
"We continue to engineer value by making these new high bays controls ready and compatible with c-Max Network controls. Adding a NLC DLC5.0 qualified controls system such as c-Max Network controls in a high bay application will enable many projects to qualify for higher-tier network lighting control rebates that improve ROI and offer enhanced energy savings to the end-user. The innovative controls ready luminaire offering from MaxLite is quite broad and is designed to address simplicity, reduced labor costs and future ready for your lighting application" says Mr. Umesh Baheti, SVP Product Management and Engineering
To learn more about the innovative product families visit maxlite.com.
• HL3 High Bay Linear Series
• BPHE2 Round Eco Pendant High Bay
About MaxLite (www.maxlite.com)
MaxLite has been committed to providing energy-efficient lighting products since 1993. One of the first movers into LED technology in the industry, MaxLite offers an extensive line of quality, certified indoor and outdoor LED lamps and luminaires. A five-time recipient of the ENERGY STAR Partner of the Year Award for its industry leadership, MaxLite continues to be at the forefront of energy-efficient technologies through the innovative research and development capabilities of its teams and facilities in New Jersey,Indiana, California, and globally. MaxLite is a nationally certified Minority Business Enterprise (MBE) by the National Minority Supplier Diversity Council. For more information, call 800-555-5629, email info@maxlite.com, or follow us on LinkedIn, Facebook,Twitter and Instagram.
###
Downloads:
Click Here To Download PDF