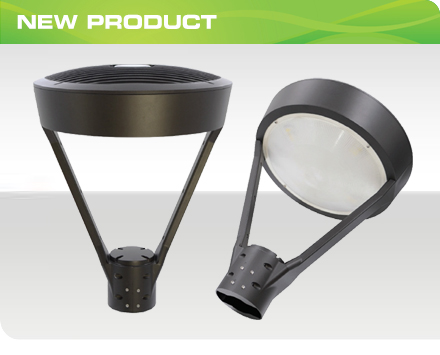 LED POST TOP SPIDER MOUNT
The Spider Mount (PTSM Series) is a stylish yet durable post top luminaire perfect for lighting pathways, parks and gathering areas. The series is offered in three outputs with photocell and motion sensor options to meet various project requirements and maximize energy savings. View the product page for complete specifications.

Features:
• 6,800-15,000 lumens
• 53W, 78W, 143W
• 3000K, 4000K or 5000K
• Slipfitter mounting (fits 2 3/8" tenon)
• UV stabilized vandal resistant polycarbonate lens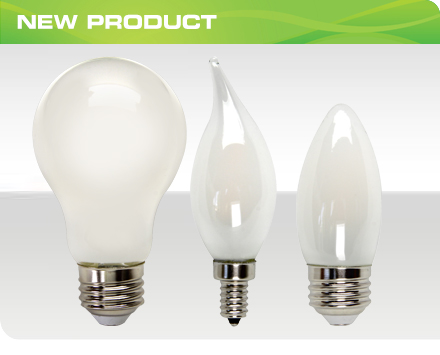 FROSTED FILAMENT A AND CANDLE LAMPS
MaxLite's newest frosted filament lamp models are now in stock! The ENERGY STAR certified A and Candle style lamps feature LED filaments encased in a frosted glass housing that emanates soft white light. The lamps are dimmable to create the perfect ambience, and increase energy savings for hospitality, restaurant, residential and retail applications.

The frosted filament A Lamps are available in 4.5W and 10W A19, and 13W A21 options to replace traditional 40W-100W incandescent bulbs in chandeliers, pendants or sconces with shades. View the datasheet here.

Offered in traditional flame tip (BA10) and torpedo (B10) styles, the Candle Lamps are perfect for use in chandeliers and other decorative fixtures. The lamps are offered in 3.5W and 5W to replace their respective 40W and 60W incandescent counterparts. View the datasheet here.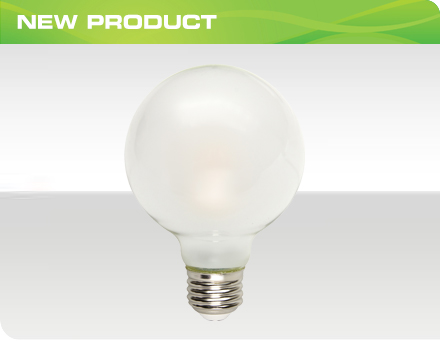 FROSTED FILAMENT GLOBE LAMPS
MaxLite's new dimmable frosted glass LED Globe filament lamps are designed to reproduce the elegant ambient effect of incandescent bulbs for hospitality, restaurant, residential and retail applications. The ENERGY STAR certified lamps are available in outputs of 350 and 500 lumens, in a choice of 2700K or 5000K color temperatures. View the datasheet for complete specifications.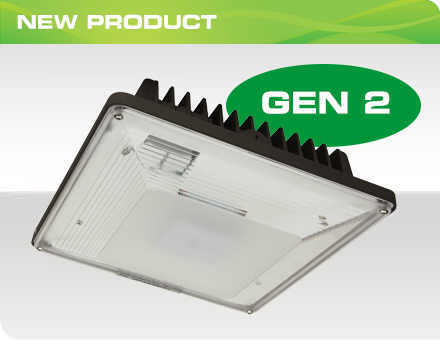 NEXT GENERATION OF LOW-PROFILE CANOPY AVAILABLE
The new generation of LED Low-Profile Canopy Lights (CPL Series) builds on the energy efficiency and ease of installation of the original with several notable upgrades in performance and design. The updated CPL comes standard with 18" leads for easier pendant mounting, as well as emergency battery backup and high voltage options. An ideal retrofit solution for 100W-250W HID garage and canopy luminaires, the series is offered in four wattages with lens options for parking garage and canopy distributions. View the datasheet for full product specifications.

To provide the most efficient service to our customers, MaxLite will maintain a robust inventory of base models. Some configurations may require a 1-2 week lead time for assembly – contact your Customer Relations Manager for details.

Features
• Full range: 20W, 30W, 40W, 52W
• High voltage available for 30W and up
• 18" leads for pendant mounts
• Emergency battery backup option
• Photocontrol and programmable dimming motion sensor options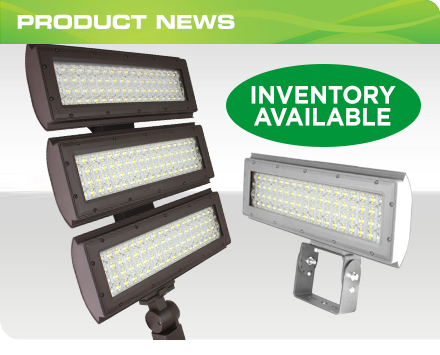 INVENTORY AVAILABLE FOR MPULSE HIGH OUTPUT FLOOD LIGHT
MaxLite is ready to take orders for the MPulse High Output Flood Light! Delivering superior lumen output in a sleek design,the MPulse High Output Flood Light can replace HID lighting systems up to 1500W. The MPulse features a modular optic system that can be configured to suit a variety of interior and exterior applications,including car dealerships, parks and recreational areas, golf driving ranges, facades and general area illumination. Part of an award-winning outdoor family, the competitively priced High Output Flood Light can be coordinated with Wall Mount, Flood, Canopy and Bollard luminaires for complete design continuity. View the product page for complete specifications. For a price sheet, click here.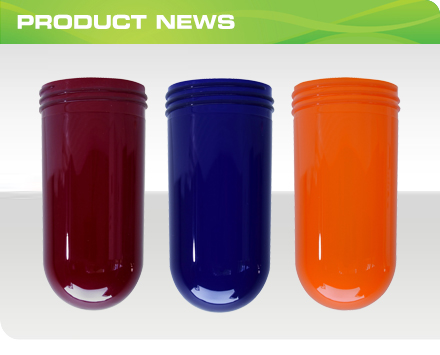 COLOR LENSES AVAILABLE FOR JELLY JAR SERIES
Color globes are now available for Vaporproof Jelly Jars with Lamps (JJ Series). The frosted PMMA lenses are offered in a choice of amber, blue or red. View the updated datasheet for ordering information.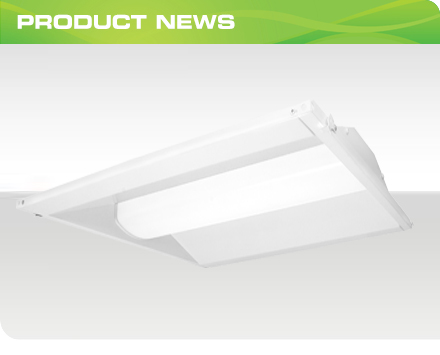 NEW TRK MODEL IN STOCK
The new 23W 2'x4' Troffer Retrofit Kit (TRK) with DLC Premium listing is now available to ship! The TRK offers facilities a quick and economical solution for upgrading existing troffers to LED technology. The kit is available in 3500K, 4000K and 5000K color temperatures, with optional trim plates that can be added for a finished look. The TRK is supported by MaxLite's WarrantyMax™ 10-year warranty. View the product datasheet for complete specifications.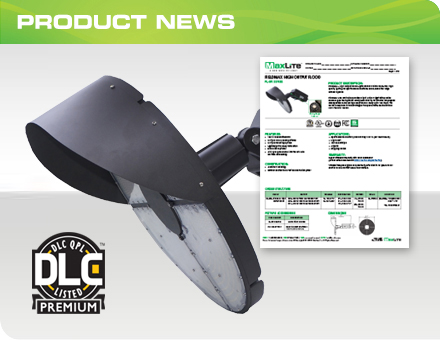 UPDATES MADE TO FIELDMAX PRODUCT INFORMATION
The FieldMax High Output Flood datasheet has been updated with new information regarding the product's impact rating, warranty coverage and controls compatibility. View the datasheet here.

A maintenance-free, high quality lighting solution for sports and recreational fields, and other large outdoor spaces, FieldMax has an impact protection rating of IK08 (protected against 5 joules impact). Warranty Coverage Extended for FieldMax MaxLite now offers a 10-year warranty on material for the FieldMax High Output Flood Light, and five years of coverage on labor ($25/per fixture). We can also provide a controls solution through SkyLogix, a third-party wireless control system (contact your MaxLite Customer Relations Manager for details).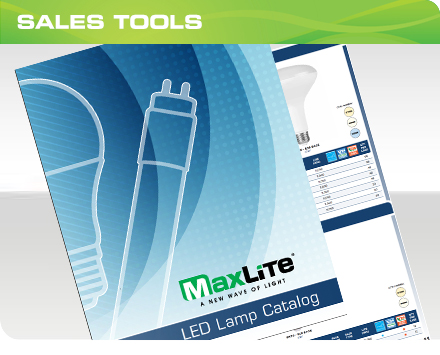 LAMPS CATALOG NOW ONLINE
The new LED Lamps Catalog is here! View the catalog to learn about our latest releases for residential, commercial and industrial lighting applications. Contact your MaxLite representative for pricing and ordering information.

PDF Download
Online Flipbook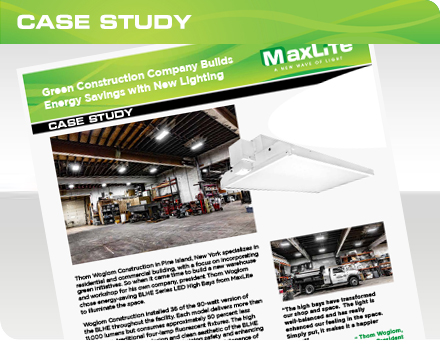 CONSTRUCTION COMPANY BUILDS ENERGY SAVINGS WITH BLHE INSTALLATION
Thom Woglom Construction in Pine Island, New York specializes in residential and commercial building, with a focus on incorporating green initiatives. When it came time to build a new warehouse and workshop for his own company, Woglom chose energy-saving BLHE Series LED High Bays from MaxLite to illuminate the space. Read the case study here.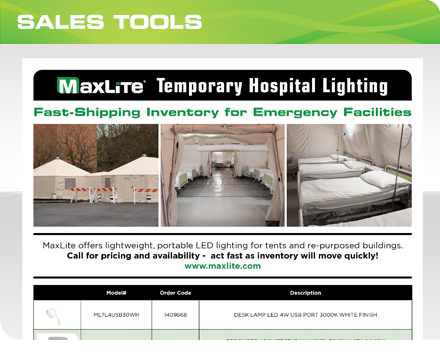 FAST-SHIPPING INVENTORY FOR EMERGENCY FACILITIES
MaxLite offers a full range of LED lighting solutions that can be used in temporary hospitals during the COVID-19 crisis. Download the flyer for details.