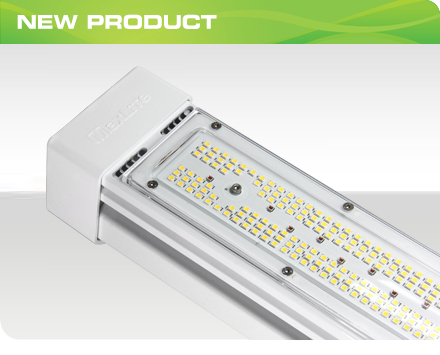 PHOTONMAX HORTICULTURE LINEAR LIGHT
The PhotonMAX Horticulture LED LINEAR LIGHT delivers powerful lighting in a sleek form factor, ideal for supplemental and sole source applications. Designed for maximum utilization of natural light in greenhouse applications, as well as high intensity vertical farming crops, the linear light provides an extraordinary blend of performance, high output and photon efficacy for greenhouse and indoor growers of all crop types. Growers can choose from three spectra options to target the specific plant morphological responses needed for their application. A lightweight, linkable design and multiple mounting options offer ease of installation for large-scale use.

Features
• 200W DLC Horticulture Listed
• Linkable up to 3 units for 200W and 2 units for 300W
• Available in 200W and 300W delivering up to 2.8μmol/J
• LED Light Source
• Autosensing 120-277V or 347-480V with 0-10V dimming standard
• Photon Flux Maintenance Q90 >36,000 hours at 40°C (104°F) per IESNA TM-21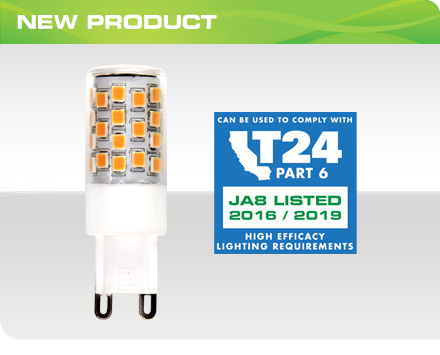 JA8 LISTED G9 BASE LAMP
Adding to a comprehensive portfolio of LED products that support California Title 24 residential lighting applications, MaxLite introduces new JA8 listed G9 base lamps for use in miniature decorative luminaires. Available in 2700K and 3000K color temperatures, MaxLite G9 base lamps consume just four watts of power and emit 400 lumens of light (an output equivalent to that of a 40-watt incandescent bulb). UL listed, enclosed-rated and dimmable, the lamps measure approximately two inches long, making them ideal replacements for halogen bulbs in chandeliers, bath bars, wall sconces and other decorative luminaires. MaxLite's lamp is one of only two G9 base products on the market for California use! View the datasheet for complete product specifications.

Features
• Miniature size (2.2"L x 0.71" Dia.)
• 400 lumens (40W incandescent equivalent)
• Dimmable
• 25,000 hours lumen maintenance (L70)
• Suitable for use in totally enclosed luminaires
• 90CRI, 2700K or 3000K color temperature
• Low flicker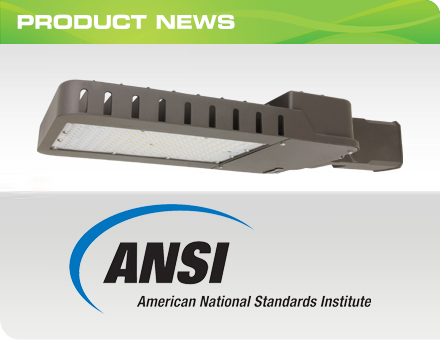 AR SERIES MEETS ANSI 3G VIBRATION STANDARD
AR Series Slim Area Lights now meet ANSI 3G vibration standard for bridges and overpasses. This expands the applications in which this rugged, cost-competitive area fixture can be used. View the updated datasheet.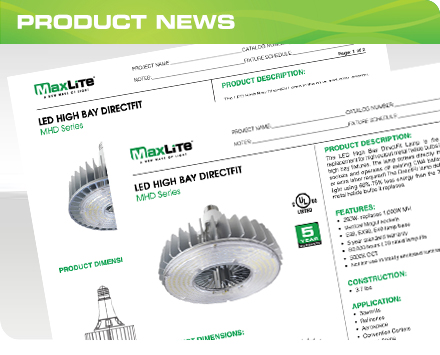 LED HIGH BAY DIRECTFIT LAMPS (UPDATED DATASHEET)
LED High Bay DirectFit Lamps are the plug-and-play, energy-saving replacements for HID bulbs in existing high bay fixtures. These UL Type A lamps screw directly into Mogul-based sockets and operate off the existing ballast - no rewiring or extra labor required! Please note that voltage input to the ballast can be 120V-480V; product datasheets have been updated to reflect this information. Two models are available to cover most retrofit needs. The enclosed-rated (145W E145MH750) scales from 175W to 400W HID by using current sensing technology that adjusts the lumen output of the lamp to match the existing ballast. The higher wattage 250W version (250MH750) replaces 750W - 1000W MH, and can only be used in non-enclosed fixtures.

Features
• 145W (Enclosed rated) replaces 175W - 400W
• 250W (Non-enclosed) replaces 750W-1000W
• UL Type A
• Runs off existing ballast (voltage input can be 120V-480V)
• E39, EX39, E40 lamp base
• 5-year warranty
• 60,000 hours L70 rated lamp life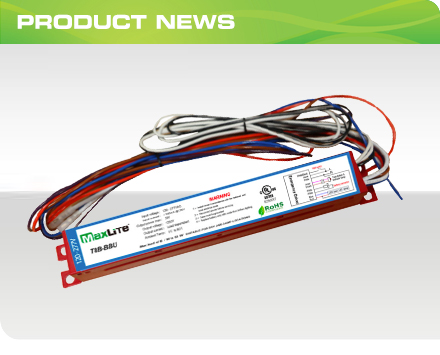 BATTERY BACK-UP UNIT AVAILABLE FOR UL TYPE B T8 LAMPS
Designed for use with Single-Ended/Double-Ended Power UL Type B LED T8 Lamps, the emergency battery backup unit (T8B-BBU) provides 90 minutes of power to keep lamps illuminated during power failures.

T8B-BBU Datasheet
T8B-BBU Installation Manual
L17T8DE4xx-CG Datasheet

FEATURES:
• For use with L17T8DE4xx-CG
• Consistent power with minimum 90-minute operating time
• Powers entire LED load at reduced output in emergency mode
• 2-in-1 LED test switch and system functioning indicator light
• 5-year warranty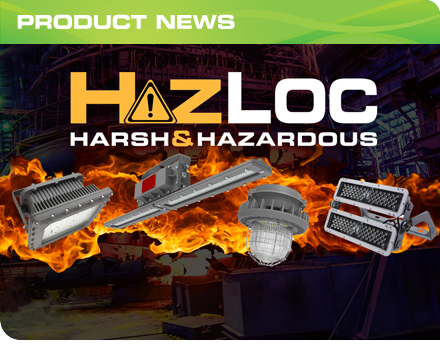 UPDATE ON HAZLOC STOCKING POSITION
MaxLite is committed to meeting all of your Harsh and Hazardous Location lighting needs! As we grow our portfolio, we would like to emphasize that we will keep stock of high-running SKUs to support your sales efforts and customer requirements. Items that are not stocked will be available in 2-10 weeks based on the specific model, quantity and application. Please contact your MaxLite customer relations manager with any questions. To view the complete Harsh and Hazardous Lighting portfolio, go to: https://www.maxlite.com/hazloc/.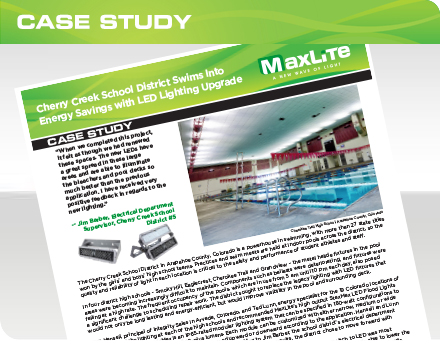 CHERRY CREEK SCHOOL DISTRICT SWIMS INTO ENERGY SAVINGS WITH LED LIGHTING UPGRADE
When the Cherry Creek School District in Arapahoe County, Colorado sought to upgrade the lighting of the indoor pools at four district high schools, they chose MaxLite's high output StaxMax LED Flood Lights for the job. Flint Hansell, principal of Integrity Sales in Arvada, Colorado, and Ted Lunn, energy specialist for the 19 Colorado locations of CES, arranged with MaxLite to send a sample of the 180-watt StaxMax for a trial installation at the Eaglecrest High School pool. Happy with the results, the district moved forward with the order and is now saving 258,376 kWh and $24,494 annually by switching to LED lighting. Read the full case study.


For more information on these or any MaxLite products, please contact your Inside Sales Manager,
or contact MaxLite directly at info@maxlite.com.
MaxLite: 1-800-555-5629 | www.maxlite.com | info@maxlite.com

We hope you found this message to be useful. You can also view MaxLite's communications using the MaxLite Minute option on our Representative Resources page.